The Boston-based API Arts Network builds community, amplifies creative work, advocates for artists, increases access to resources, and creates brave spaces with API peoples.
NEXT UP: OUR DECEMBER SOCIAL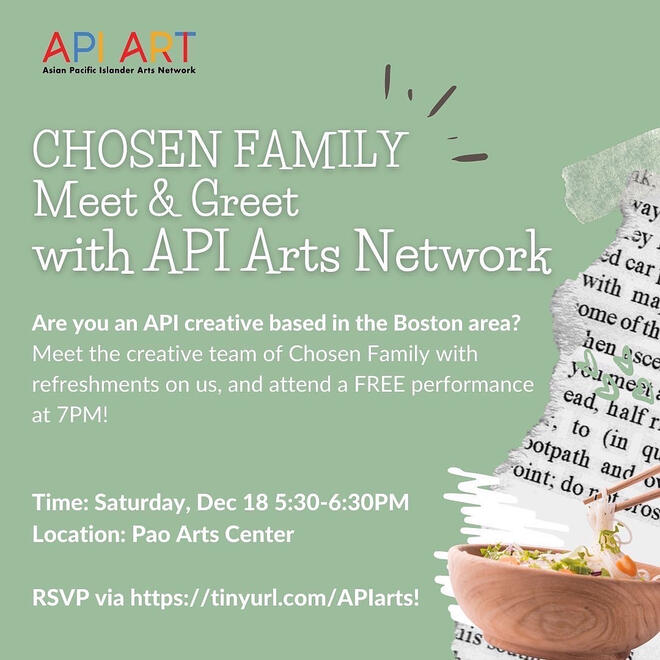 December 18 5:30-6:30pm
CHOSEN FAMILY Meet & Greet with API ARTS NETWORK!
Coming from Dorchester? We got a bus for you! See RSVP link for more info.
Our Vision
We imagine a liberated future where API peoples and systemically marginalized communities have the agency, resources, and autonomy to explore our stories.
---
Social Events
AAPC @ Starlight Square Field Trip
Lyric Stage Walking Plays Picnic
API Self-Care Virtual Social
Refresh & Reflect
What to Send Up When It Goes Down API Arts Network Night
Cambodian Rock Band Field Trip!
Workshops & Classes
"Storytelling and Activism: What's Your Truth" Workshop with Sara Porkalob
Artist Shares and Co-Pros
140 LBS
Vietgone at the Gate
About Us
The Asian Pacific Islander (API) Arts Network is a volunteer-run and led grassroots collaboration of artistic and cultural producers, funders, presenters, and supporters, formed to increase visibility and diverse representation of APIs on a regional and potentially national level through self-generated activity and advocacy.
The Network was launched in October 2017 in response to a town hall meeting and community forum attended by over 100 arts supporters and artists as part of the national "Beyond Orientalism" initiative. It became clear that despite the fact that there are large numbers of API artists in Boston, many feel isolated, unsupported, and unrecognized. Attendees articulated a need for a network for API artists and arts organizations to convene, work together, share best practices, and collaborate in the Boston area.
The Network holds the potential to influence the local funding landscape, leverage resources for API artists, and help younger and emerging artists find their path by learning from others. The Network strives to create a support system that will encourage peer learning, ensure equitable access to professional development opportunities, open lines of communication between funders, artists and administrators and spark collaboration between artists. By building a strong community and support system, the Network will empower artists and their supporters to advocate for issues that are important to them and their communities.
Steering Committee Members
Share Your Event
We compile a monthly newsletter to share with individuals who may be interested in attending upcoming events—whether that be a reading, screening, webinar, gallery, workshop, grant application, or other API arts-related event.Let us know if you're involved with an event that we can help share!
谢谢 | 多謝 | 谢谢 | 感謝 | ありがとう | Terima kasih | 감사합니다 | ขอบคุณ | Matur nuwun | Cảm ơn | ေက်းဇူးတန္ပါတယ္။ |
Salamat | Nuhun pisan | धन्यवाद | tànvād | நன்றி |ధన్యవాదములు | आभारी आहे | shukriya | ધન્યવાદ | നന്ദി | ಧನ್ಯವಾದ ଧନ୍ୟବାଦ୍ | Dhanyabad | धन्वाद | THANK YOU!
Boston Chinatown Neighborhood Center/Pao Arts Center is the administrative home to the API Arts Network. If you would like to support our mission, make a tax-deductible contribution to BCNC through the Pao Arts Center Webpage and note "API Arts Network" in the comment box.